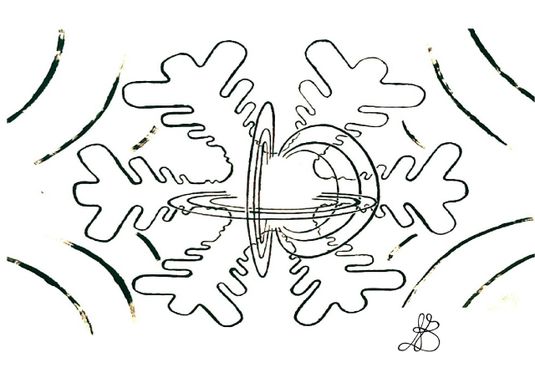 a point is nothingness     &    
nothingness is the point
( Albert Bright - www.universesolving.com )
A point – mathematically - has no dimension, does not exist, is nothingness. The original point of our universe, before the big-bang, as well only was just a little point, nothingness – as you can (not) see on the picture. (We painted the squeezing forces)
But "the point" is: that that declared nothingness may have enormous power, when things change. The big-bang made many "points" out of just one - led to 350 billion galaxies with 100´s billion stars in each.
Nothingness (pre-big-bang) is always under-estimated. Additionally not all points (galaxies) can be considered after a big-bang. This is why political interventions against trends - means: centralizing/"attracting" all decisions to be centrally made - always lead to things getting worse on the long term. And then continuously more new explosions emerge. Lamentably too much to be well managed. Lamentably mostly destructive ones (black-holes) causing a bigger damage than if a trend would have been accompanied. Only liberty (!) causes positive big-bangs – as our universe - and as in liberal economies. 
For more Information shop the books "astronomy solutions" and "astron-economy solutions" at this homepage.
Please spread these visions inviting your friends to follow   www.universesolving.com  (just add as favorite at your computer-screens) .   We will continuously post central aspects. Our aim is to increase the wealth of nations: Universal Liberty. Universe - on our Earth.

Please consider, that we are no political, religious nor any other kind of group. We just want to open minds to increase mutual wealth & liberty.
.