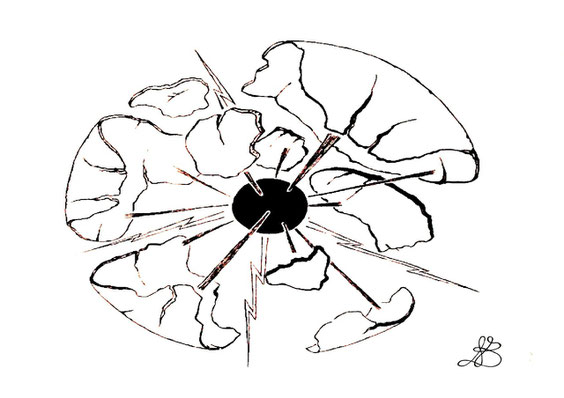 constructive destruction – destroys constructions
Too big, as to fail – vs - fail, as too big!
There are big differences between earth- politics and universe-rules.
And/or/if, in addition to the "too big", there is not enough "energy" ("power" or "velocity") within those "too big", the chance of collapsing increases exponentially. In universe, in politics, in economy, … .
Out of the biggest companies 100 years ago, less than 1% still exist – but far more companies than ever before exists today. The 50 big countries 50 years ago have now converted into 195 countries. 40 currencies mid of the 19th century have increase to 175. Too "big" and too "energy-poor" stars or systems always collapse, implode or explode. But:
After the collapsing, it is the chance for a lot of new quasars (one possible result out of a star implosion) and/or even down to dust (resulting from the implosions) to build new stars – if surrounding forces "permit".
If, as in universe, collapsing is a normal thing, those collapsing will lead to small and regional problems, when certain dimensions are achieved. But the rest is not affected. And by doing so, universe is growing since 13.8 billion years – and today even growing faster than ever before.
If, as on our earth, collapsing is politically postponed, these political constructions will grow to almost bigger (but with increasing labillity) constructions. This results in even more "gravity" (centralizations). By doing so, politics gets under its "command" more and more sectors, which lose their normal ways/possibillities (circles), due to decisions at/for other places (to keep the "too bigs" at that other places alive). Now, these additional sectors, as well need help. The implosion of all those (continuously "collected") sectors will no longer be a small and regional collapsing, like normally in universe. It will lead to a far bigger destruction.
The long-run solution? Less state interventions. More liberty for the markets. Universal-rules applied to economy-challenges – as done within the book "Astron-Economic Solutions"
The short-run solution? Relativize! – as it is being done in the new book, which will be presented in July 2015.
.